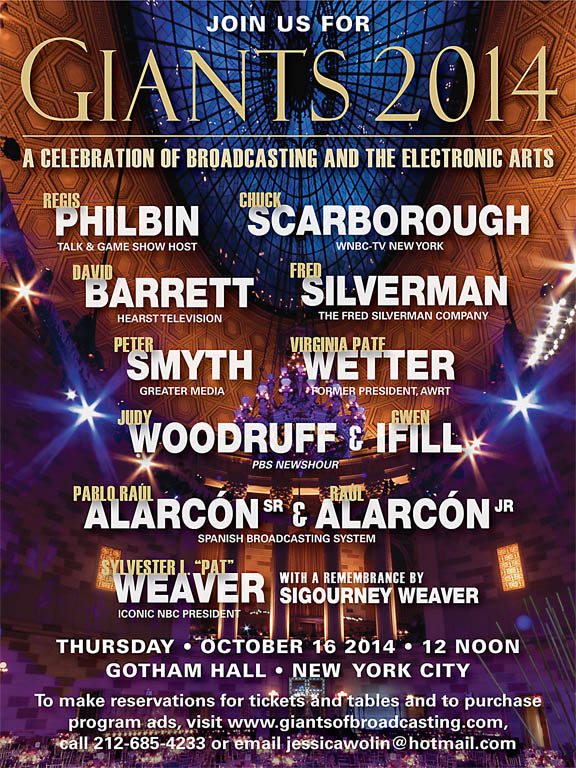 Giants of Broadcasting
& Electronic Arts
Sets Honorees for 2014
First announcement includes Pablo Raúl Alarcón Sr., Raúl Alarcón Jr.,
David Barrett, Chuck Scarborough, Fred Silverman, Peter Smyth,
Judy Woodruff and Gwen Ifill and Sylvester L. "Pat" Weaver
The 12th annual staging of the Giants of Broadcasting & Electronic Arts, a yearly event sponsored by the Library of American Broadcasting and celebrating distinguished leadership or performance in television and radio, is scheduled forThursday, October 16th, in New York's Gotham Hall. The Library has announced the starting lineup of professionals who will be recognized in 2014 for their contributions to those media in the last half-century. The distinguished honorees join 170 Giants of Broadcasting & Electronic Arts previously celebrated by the Library.
The Honorees
Pablo Raúl Alarcón, Sr. was founder and chairman of the board of directors of Spanish Broadcasting System from March 1983 until November, 1999, when he became Chairman Emeritus. Alarcón Sr. was involved in Spanish-language radio broadcasting since the early 1950s when he established his first radio station in Camagüey, Cuba. Alarcón Sr. had acquired 14 radio stations by the time he fled Cuba with his family to the United States in 1960. Once here, he continued his career as an on-air personality at a New York radio station before being promoted to programming director. He subsequently owned a recording studio and advertising agency before purchasing the first SBS radio station, WSKQ-AM, in 1983 with his son, Raúl Alarcón Jr. Pablo served as chairman of the SBS board of directors, while his son Raúl initially served as an account executive in the sales department. Pablo Raúl Alarcón Sr. died in Miami on June 11, 2008.
Raúl Alarcón, Jr. is the current CEO and president of SBS, positions he has held since June 1994 and October 1995, respectively. The company now owns and operates some 20 radio stations in New York, Los Angeles, Chicago, Miami, San Francisco and Puerto Rico, as well as seven television stations. He succeeded his father as chairman of the board of directors in 1999 and is responsible for the company's long-range strategic planning and operational matters and acquisitions. SBS generated sales of about $20 million in its first year, confirming the influence of the growing Spanish-speaking audience. In 1998 SBS purchased its first FM station, KLAX-FM in Los Angeles. The company went public in the fall of 199l, raising $435.8 million by selling 21.8 million shares at $20 per share. SBS bought its third station, New York's WSKQ-FM, in 1989 and reformatted it as Mega 97.9. The station surpassed the market's longtime leader, the light rock station WLTW-FM, in 1998. In 2002 the company created SBS Entertainment, a concert production arm, purchased 80 percent of JuJu Media, the operator of the Spanish-English Web site LaMusica.com, and launched KZAB-FM, targeting the Central American population in Los Angeles. In 2003, WSKQ, SBS's first station, was the most listened-to Spanish-language radio station in the United States.
David J. Barrett is the recently retired chief executive officer and chairman of Hearst Television at The Hearst Corporation. Barrett was named president and CEO of Hearst-Argyle Television in 2001, then a publicly traded subsidiary of Hearst Corp. He helped take the company private in 2009 when it was renamed Hearst Television. Barrett served as co-CEO of Hearst-Argyle Television from June 1999 to December 31, 2000, becoming CEO in 2001. He served as president from June 1999 to December 2012, when he was promoted to chairman. Hearst-Argyle was publicly traded on the NYSE from 1998 until 2009, when it was taken private by Hearst Corporation and re-named Hearst Television. He had a six-year tenure as deputy general manager of Hearst Broadcasting and four years as executive vice president and chief operating officer of Hearst-Argyle Television. Barrett joined Hearst in 1984 as general manager of the company's Baltimore radio stations, later assuming general manager responsibility for the Hearst Radio Group and then for WBAL-TV in Baltimore, where he presided over the revitalization of Hearst's original TV station. Barrett was given additional responsibility for the Hearst radio group in 1985 and, in 1989, assumed general corporate responsibilities for the Hearst Broadcasting Group. He remains a director of Hearst Corporation and is a trustee established under the will of William Randolph Hearst and a director of the Hearst Foundations. His industry leadership includes many years of influential service on the Television Board of the National Association of Broadcasters, and he remains active with the National Association of Broadcasters Education Foundation. He is a director of the Association for Maximum Service Television and the Broadcasters Foundation of America.
CHUCK SCARBOROUGH is arguably the senior major market anchorman in local television, by virtue of his 40 years as co-anchor of News 4 New York at 6 p.m. and 11 p.m. at WNBC-TV New York. The Emmy Award-winning veteran broadcast journalist joined that station in 1974 after service beginning at WDAM-TV in Hattiesburg, Miss., in 1968 and continuing through WLOX-TV Biloxi, Miss., WAGA-TV Atlanta and WNAC-TV Boston. He celebrated his 40th anniversary with NBC 4 New York in March this year. In addition to anchoring and covering domestic issues, Scarborough has delivered high-profile reports on a variety of topics across the globe, reporting from Europe, Russia, the Middle East, the Philippines, Mexico and South America and has hosted special news programs for NBC 4. Scarborough served four years in the U.S. Air Force before beginning his television career. Among his numerous honors are 33 Emmy awards for virtually every category of broadcast journalism. Scarborough is also an accomplished writer and has authored three novels, Stryker (1978), The Myrmidon Project (1980), and Aftershock (1991).
Fred Silverman grew up in the television business. After starting out in the mailroom of ABC-TV in the late 1950s, he rose to director of program development at WGN-TV Chicago in the early '60s. One day, he abandoned his car during a snowstorm and boarded a plane for New York, where he gained a position as head of Daytime Programming at CBS-TV. In 1970, he became the programming head of CBS, where he programmed such hits as The Mary Tyler Moore Show, All in the Family, M*A*S*H and The Jeffersons. Additionally, Silverman reintroduced game shows to the network's daytime lineups in 1972 after a four-year absence. Under Silverman's tenure, CBS also ended the practice of wiping and reusing videotapes and saved as much of their recorded content as possible, while other networks recycled tapes constantly to save money. In 1975, he left for ABC as head of its entertainment division, where he developed such new hits as Laverne & Shirley, The Love Boat, Donny and Marie and Soap. By the end of the 1977-78 season, ABC was number one in both daytime and nighttime. In 1978, Silverman left ABC and joined NBC as president and CEO. His presence helped stem the audience erosion of the prior five years with new programs such as Diff'rent Strokes, Real People and Hill Street Blues. After departing NBC in June of 1981, Silverman formed The Fred Silverman Company and became an independent producer. Among his successes were Matlock, In the Heat of the Night, Jake and the Fatman and Diagnosis Murder. Silverman remains in the independent production business and also does program consulting across the spectrum of electronic media.
Peter Smyth is the chairman and chief executive officer of Greater Media, Inc., one of the nation's leading broadcasting companies. In this role, Smyth oversees the operational efforts of 21 AM and FM radio stations in Boston, Charlotte, Detroit, Philadelphia and New Jersey; a group of weekly newspapers in central New Jersey; and several telecommunications towers throughout the United States. Over the past three decades, Smyth has served in a variety of capacities within Greater Media, including general manager of WMJX-FM in Boston, vice president of the Radio Group, and chief operating officer of Greater Media, Inc. Smyth began his career in broadcasting in 1977 as an account executive with WROR-FM in Boston. He was quickly promoted to general sales manager, a position he held for the next five years. In 1983, RKO General, the parent company of WOR, recruited him to serve as general sales manager of its New York stations, where he directed the company's sales operations until his departure in 1986 to work at Greater Media. A visionary in his field, Smyth has helped to revolutionize the broadcasting industry by advocating for and adopting new technologies such as HD Radio and internet streaming, and by developing and incorporating innovative content to improve media communications and meet the emerging demands of the industry and its advertisers.
JUDY WOODRUFF AND GWEN IFILL are the co-anchors and managing editors of PBS NewsHour with Gwen Ifill and Judy Woodruff; Ifill is also the moderator and managing editor of Washington Week, the longest-running prime-time news and public affairs program on television. Woodruff has covered politics and other news as a broadcast journalist for more than three decades. She was White House correspondent for NBC from 1977 to 1982. At PBS from 1983 to 1993, she was the chief Washington correspondent for The MacNeil/Lehrer NewsHour, and she also anchored PBS' award-winning weekly documentary series Frontline with Judy Woodruff from 1984 to 1990. For 12 years starting in 1993, she served as anchor and senior correspondent for CNN, where her duties included anchoring the weekday program Inside Politics. After taking off a year from broadcasting to teach at Harvard and her alma mater Duke University, she returned to PBS and joined The NewsHour with Jim Lehrer as senior correspondent and substitute anchor. Ifill joined both Washington Week and PBS NewsHour in 1999, interviewing newsmakers and reporting on issues ranging from foreign affairs to politics. Before coming to PBS, she was chief congressional and political correspondent for NBC News, White House correspondent for The New York Times, and a local and national political reporter for The Washington Post. She also reported for the Baltimore Evening Sun and the Boston Herald American. The best-selling author of The Breakthrough: Politics and Race in the Age of Obama (2009), she moderated the Vice Presidential debates during the Presidential elections in 2004 and 2008.
Sylvester L. "Pat" Weaver is widely considered to be one of television's greatest innovators. His career distinguished that medium in its earliest days and his influence continues today. Weaver originally worked for the Young & Rubicam advertising agency during the golden age of radio, eventually supervising all the agency's radio programming. NBC hired him in 1949 to develop a new television network. At NBC, Weaver established many operating practices that became standards. He introduced the practice of networks producing their own television programming instead of having the ad agencies do it, breaking the dependence of programs on sole corporate sponsors. He became president of NBC between 1953 and 1955. He has been credited with reshaping commercial broadcasting's format and philosophy as radio gave way to television as America's dominant home entertainment. Weaver created Today in 1952, followed by Tonight Starring Steve Allen, Home with Arlene Francis and Wide Wide World, hosted by Dave Garroway. He didn't ignore NBC Radio, either. In 1955, as network radio was dying, Weaver gave it one of the greatest adren­aline kicks in its history with NBC Monitor, a weekend-long magazine-style program­ming block that featured an array of news, music, comedy, drama, sports, and anything that could be broadcast within magazine style, with rotating advertisers and some of the most memorable names in broadcast journalism, entertainment and sports. Weaver left NBC in 1956 over disputes with RCA founder David Sarnoff. Weaver's last major effort at television innovation came in the early 1960s when he headed Subscription Television, Inc., an early venture into the pay cable industry. Although it failed, his efforts helped remove certain barriers to the eventual development of cable television. He died in 2002.
Award-winning actress Sigourney Weaver, his daughter, will be accepting the Giants honor for her father. Ms. Weaver is an American actress known especially for the lead role of Ellen Ripley in the four "Alien" films: Alien, Aliens, Alien 3, and Alien Resurrection. She is also well known for her role as Dana Barrett in Ghostbusters and Ghostbusters II, and for Gorillas in the Mist, Working Girl, and Avatar. She recently starred in USA Network's political miniseries Political Animals.
The Library of American Broadcasting(LAB) — located at the University of Maryland — is entering its 42nd year serving as the national information resource for the radio and television industries and the academic communities that rely upon it for depth and expertise. Its collections of historic documents, professional papers, oral and video histories, books and photographs are among the nation's most extensive. LAB is evolving from a conventional library into a "homepage" for the world at large, no longer confined to responding to constituents one at a time but reaching thousands simultaneously through the Internet. Industry outreach includes lectures, symposia, print and the broadcast media themselves.
LAB's chair is Virginia Hubbard Morris, president of Hubbard Radio, based in Minneapolis-St. Paul; the Giants event chair is Donald West, veteran broadcast journalist; the dean of libraries at the University of Maryland is Patricia Steele, and the curator is Chuck Howell. The Library has been honoring leaders in the broadcasting industry annually since 2003 — its list of Giants now totals 170. Previous honorees include industry founders Guglielmo Marconi, David Sarnoff of RCA and NBC, William S. Paley and Frank Stanton of CBS, Leonard Goldenson of ABC, Bob Hope, Lucille Ball, Jack Benny, Philo T. Farnsworth, H. V. Kaltenborn, Edward R. Murrow, Walter Cronkite, Arthur Godfrey, Paul Harvey, Charlie Rose, Ken Burns, Johnny Carson, Katie Couric, Brian Williams, Christiane Amanpour, Lowry Mays and Tim Russert.
Library of american broadcasting foundation
BOX 2749 ALEXANDRIA VA 22301 TEL 703 548 6090 WEST[email protected]

TICKETS: Reservations for tables and individual tickets to the event may be arranged through Jessica Wolin at 212-685-4233 or by e–mail at [email protected].
PRESS: Ellyn Fisher, 212-984-1964, [email protected]