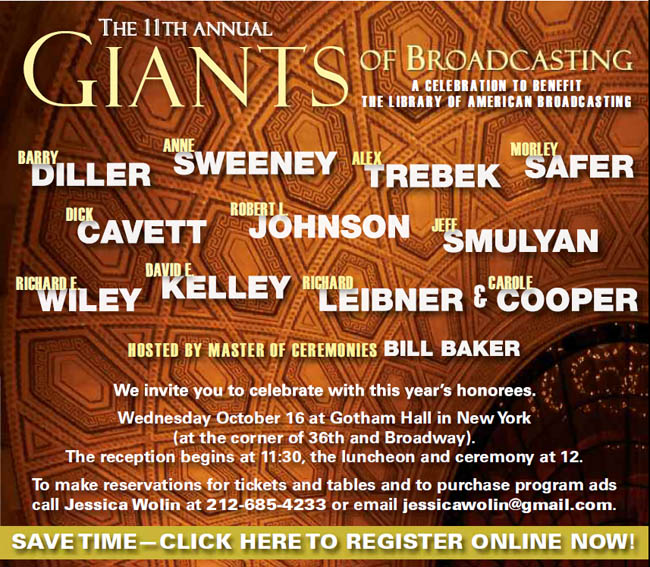 Awards go to Anne Sweeney, Alex Trebek, Barry Diller, Morley Safer, Dick Cavett, Jeff Smulyan, Robert L. Johnson, David E. Kelley, Richard E. Wiley, Richard Leibner and Carole Cooper
The 11th annual staging of the GIANTS OF BROADCASTING, a yearly event sponsored by the Library of American Broadcasting and celebrating distinguished leadership or performance in television and radio, is scheduled for OCTOBER 16 in New York's Gotham Hall. Eleven distinguished professionals will be recognized in 2013 for excellence in the electronic communication arts, joining 159 previously honored by the Library since 2003.
The Honorees:
ANNE SWEENEY is co-chair of Disney Media Networks and president of the Disney/ABC Television Group, which includes The Walt Disney Company's global entertainment and news television properties, its owned television stations group and radio businesses. Curiosity, creativity and a single-minded focus on what consumers want have guided Sweeney's groundbreaking career in television. Overseeing properties including the ABC Television Network, Disney Channels Worldwide, ABC Family and ABC Studios, in 2005 she led the industry into the digital era when the Disney/ABC Television Group became the first media company to put television content on new platforms. The group was the first to leverage iTunes, the first to introduce an ad-supported full episode player online, and the first to deliver an application for the revolutionary iPad. Under Sweeney's leadership, the Group continues to combine high-quality content with strategic use of traditional and emerging distribution platforms to deliver compelling news and entertainment viewing experiences to hundreds of millions of people around the world. Most recently, through its WATCH ABC service, ABC became the first major network to provide authenticated viewers with live access to their favorite ABC shows and local market programming, as well as a variety of on-demand content, in more ways than ever before, at home and on the go. Additionally, during Sweeney's tenure she oversaw the successful launch of the 24-hour channel Toon Disney (now Disney XD) and later the launch of Disney Junior. Sweeney joined The Walt Disney Company in 1996. Previously she was chairman and CEO of FX Networks Inc., where she presided over the launch of FX and FXM: Movies from Fox, Hollywood's first studio-based movie network. Before joining Fox, Sweeney spent 12 years at Nickelodeon/Nick at Nite, latterly as senior vice president of Program Enterprises. She has been named one of "The 50 Most Powerful Women in Business" by Fortune, one of "The World's 100 Most Powerful Women" by Forbes and the "Most Powerful Woman in Entertainment" by The Hollywood Reporter.
ALEX TREBEK, one of television's most iconic figures, has entertained millions of viewers worldwide during the last three decades of Jeopardy! Trebek has hosted more than 6,000 episodes since the show's latest incarnation made its syndicated debut in 1984. Jeopardy! won its 30th Emmy last year. Trebek himself has won five Daytime Emmy Awards for Outstanding Game Show Host and in 2011 received the Lifetime Achievement Award from the National Academy of Television Arts & Sciences. Trebek started his broadcasting career in 1961 as a reporter for the Canadian Broadcasting Corporation (CBC), Canada's premier network, where he covered national news and special events for radio and television. Five years later he was offered the quizmaster position on a game show for Canadian high school kids, Reach for the Top, and hosted several other Canadian game shows at the same time. He left Canada in 1973 and came to America to host NBC's The Wizard of Odds. After joining Merv Griffin's Jeopardy!, Trebek was a hit with viewers and quickly became a pop culture icon. A long-time USO supporter, he has participated in 12 USO tours greeting America's men and women in uniform. He has been honored with a coveted star on both the Hollywood Walk of Fame and the Canadian Walk of Fame in Toronto, making him one of only a handful of people so honored by both countries.
BARRY DILLER is themedia titan responsible for the creation of Fox Broadcasting Company and USA Broadcasting, and former CEO of Paramount Pictures, who is currently the Chairman of and Senior Executive of IAC, a leading media and Internet conglomerate, and of Expedia. His life could be the stuff of a Hollywood script. Self-made in the media, he started at the bottom of the social scale working in the mailroom of the William Morris Agency, before joining ABC as a television executive, where he created the ABC Movie of the Week, pioneering the concept of the made-for television movie through a series of 90-minute films produced exclusively for television. At 31 he became president of Paramount Studios, turning the company around by reducing budgets and launching shows including Taxi and Cheers and feature films such as Saturday Night Fever and Indiana Jones and the Raiders of the Lost Ark. When Rupert Murdoch bought Twentieth Century Fox Corporation and asked Diller to help him launch the broadcasting division, few thought a fourth network was possible, but Diller proved them wrong. After the launch of FOX he decided it was time to have his own business. He amassed a media empire, including multiple cable channels and Internet companies. Diller purchased a stake in the home-shopping channel QVC and later took control of USA Interactive. In 1996, he became the head of Silver King Communications, renamed IAC, and since then has led the company to a series of acquisitions in Internet companies, including Ticketmaster, Expedia, Citysearch, Match.com and the search engine Ask.com. In 2005 IAC spun off Expedia to make it a separate, publicly traded company. In 2008, Diller's IAC spun off their other major assets including Ticketmaster, HSN, Tree.com and Interval Leisure Group. Diller is currently the backer of Aereo, a technology startup that allows users to access over the air television across all Internet connected devices and platforms, a move challenged by many broadcasters.
Few have ever been able to tell a story as well as MORLEY SAFER, theaward-winning 60 Minutes correspondent on CBS and pioneering war reporter. Safer's witty and superbly written features have been a mainstay for over four decades on that TV stalwart. His primetime achievements rest on a foundation of groundbreaking war reporting that began in Africa and the Middle East for the CBC and continued at CBS News in the 1960s with coverage in Southeast Asia. Safer's legendary CBS Evening News reports from Vietnam battlefields changed war reporting forever; his 1965 story showing G.I.s burning the homes of villagers in Cam Ne was named one of the top 100 news reports of the century. The report prompted the U.S. military to issue new rules of engagement. In 1965 Safer opened the Saigon Bureau for CBS News and he later served as the network's London Bureau chief. In 2011 Safer landed one of the biggest interviews for CBS: 18.5 million people watched him ask Ruth Madoff what she knew about her husband Bernard's Ponzi scheme. Safer's investigative report on Lenell Geter, an engineer wrongly convicted of armed robbery and sentenced to a life term in Texas, also received national attention and prestigious broadcast journalism awards. Safer has won 12 Emmy Awards, three Overseas Press Club Awards, three Peabody Awards and two Alfred I. DuPont–Columbia University Awards. He has also written a best-selling book, Flashbacks: On Returning to Vietnam (1990), which describes his 1989 return to Vietnam.
DICK CAVETT, Emmy-winning talk show legend, comedian and writer, has hosted and interviewed a wide range of guests, from authors and political figures to musicians and singers. Over the course of his career, and on The Dick Cavett Show particularly, Cavett has enjoyed pairing controversial people with opposing views to discuss often taboo subject matter. Cavett has won three Emmy Awards for his work. He began his career as a copyboy at Time magazine, then was hired as a comedy writer for The Tonight Show after he slipped an envelope of jokes into Jack Paar's hands in an RCA Building hallway. Cavett also wrote for shows including The Jerry Lewis Show, and later did stand-up on The Tonight Show, The Merv Griffin Show and The Ed Sullivan Show. This success led to ABC giving Cavett the job hosting This Morning in 1968 and then his own late-night program, The Dick Cavett Show, a year later. Cavett is probably best known for this first incarnation of the several talk shows that have borne his name and aired on various networks from 1969 to 2007. The show was often referred to as "the thinking man's talk show" and Cavett was considered a solid and thoughtful interviewer.Guests included Jimi Hendrix, Bobby Fischer, Groucho Marx, Orson Welles, Gore Vidal, Marlon Brando and Muhammad Ali. John Lennon and Yoko gave Cavett their first interview after the break-up of the Beatles in September 1971, and in 1973 Katherine Hepburn gave Cavett her first-ever television interview. Since the show, Cavett has appeared many times as a stand-up comedian on a variety of talk shows, in commercials and occasionally in theater, such as Broadway's Otherwise Engaged and Into the Woods. He is currently a contributing blogger for The New York Times.
Radio veteran JEFF SMULYAN is the founder, CEO and president of Emmis Communications, an Indianapolis-based radio, TV and magazine publishing company. After operating two radio stations – WNTS in Indianapolis and KCRO in Omaha – Smulyan formed and became principal shareholder of Emmis in 1980. The company currently owns and operates 20 FM and 2 AM radio stations in the nation's largest markets and six local, regional and national magazine operations. In 1995, Emmis became the first company to own top-rated stations in New York and Los Angeles simultaneously. A former director of the National Association of Broadcasters and former chairman of the Board of Directors of the Radio Advertising Bureau, Smulyan served as past chair of the Central Indiana Corporate Partnership, a consortium of CEOs from central Indiana's largest corporations. He is a member of numerous civic boards and committees. As principal shareholder, Smulyan led a group that purchased the Seattle Mariners baseball team in 1989, selling the club three years later. In 2000, Smulyan was honored with the National Association of Broadcasters' National Radio Award and as Radio Ink's "Radio Executive of the Year." He has also been named one of the 10 most influential radio executives of the past two decades. In recent years, Smulyan has been leading the radio industry's groundbreaking efforts to expand FM radio's reach to mobile phones.
ROBERT L. JOHNSON, businessman, media mogul, investor and billionaire, is perhaps most well-known for being the founder of Black Entertainment Television (BET), the first cable network designed to reach African Americans. The network, which provides music, news, sports and public affairs programming, launched modestly in 1980 and has been widely credited with bringing diversity to mainstream media to a degree never before seen. Upon Johnson's taking the company public in 1991, it became the first African American-owned business to be publicly traded on the New York Stock Exchange. The network, later sold to Viacom, has continued to grow to reach tens of millions of homes and expand to include other traditional and digital channels. Johnson remained the CEO through 2005. After stepping down, he dedicated himself to several other business and philanthropic pursuits. Johnson is the founder and chairman of The RLJ Companies, a business network providing strategic investments in a diverse portfolio of companies in the financial services, real estate, hospitality, film production, automotive and gaming industries. Johnson became the first minority owner of a professional sports franchise, the Charlotte Bobcats, and later sold the majority stake to NBA Hall of Famer Michael Jordan. In 2006, Johnson founded Our Stories Films with partner Harvey Weinstein. The company focuses on family-friendly movies intended for African-American audiences, including the 2011 comedy feature Jumping the Broom. Johnson's RLJ Companies has also introduced two paid channels on YouTube as part of a pilot program on the popular video-sharing site. The first channel, OnCue, offers movies, documentaries and other programming targeted to African American and urban audiences, and the second, Acorn TV, specializes in British drama and mysteries.
DAVID E. KELLEY, prolific and award-winning television writer and producer, is recognized as one of the finest in the business. He is the creator of hit shows including Picket Fences, Chicago Hope, The Practice, Ally McBeal, Boston Public, Boston Legal and Harry's Law, as well as several films. Kelley is one of very few screenwriters to have had shows run on all four of the top commercial U.S. television networks (ABC, CBS, Fox and NBC).The former Boston-based attorney is famous for writing most of his scripts on a yellow legal pad. He wrote his first screenplay, the courtroom comedy From the Hip (which later became a 1986 film), while practicing real estate and criminal law. The screenplay was shared with Steven Bochco, a television producer who was looking for legal-minded writers to work on his new drama series, L.A. Law. The young lawyer started as a story editor and writer of the show and later became executive producer. Kelley left in 1992 to start his own series, Picket Fences. By 1999 he had emerged as a leader in primetime television, involved in no fewer than five series. During the 1999-2000 season, Kelley accomplished the singular feat of winning Emmys for both Outstanding Drama Series and Outstanding Comedy Series for The Practice and Ally McBeal, both focused on law firms in Boston. As a writer and producer, Kelley has amassed a total of 10 individual Emmys and has been responsible for 30 different actors and actresses winning their own Emmy Awards across many competitive categories.
RICHARD E. WILEY, former Chairman, Commissioner and General Counsel of the Federal Communications Commission, was a leading force in the effort to foster increased competition and lessened regulation in the communications field during his tenure at the FCC in the 1970s. He also played a pivotal role in the development of HDTV, serving for nine years as Chairman of the FCC's Advisory Committee on Advanced Television Service. Wiley has been called the "Father of High-Definition Television" (Globe and Mail), as well as the "Most Influential Media and Telecommunications Lawyer in the U.S." (International Herald Tribune), and one of the top "100 Men of the Century" (Broadcasting & Cable). Wiley has received an Emmy Award, the Electronic Industries' Medal of Honor, the Distinguished Service Award from the National Association of Broadcasters and the North American Broadcasters Association's International Achievement Award. He is currently senior partner in the Washington, D.C. law firm Wiley Rein, where he heads the firm's Communications Practice, the largest in the nation, representing communications organizations including Verizon, AT&T, JP Morgan, Credit Suisse, Newspaper Association of America, Motorola, CBS, Belo, Gannett, Sirius/XM, Emmis and LG Electronics. Wiley is a frequent author and lecturer on telecommunications and information law.
RICHARD LEIBNER, founder and president of N.S. Bienstock Inc., is one of America's most successful and powerful talent agents in broadcast journalism. Leibner has pioneered representation of televison news talent, driving up the market for broadcasters over the past forty years. He has represented such icons as Eric Sevareid, Dan Rather, Mike Wallace, Ed Bradley, Maria Shriver, Paula Zahn, Chris Mathews, Andy Rooney, Diane Sawyer, Bob Schieffer, Steve Kroft and Morley Safer. Leibner's success stems from his representation style and the salaries he commands for his clients. According to The New York Times Magazine, "Leibner with a phone is like Mantle with a bat." In 1963, Leibner went to work for his family's accounting firm. The serendipitous meeting of his father Sol and insurance salesman Nate Bienstock, both having author John Steinbeck as a client, brought the three men together. One year later they co-founded N.S. Bienstock Inc. and he began his career as a talent agent to the up-and- coming stars in local and national broadcast news. Leibner has been profiled in numerous publications including The New York Times, Broadcasting & Cable, New York Magazine, People, Electronic Media, Television Week, US Magazine, Worth, Forbes, O-The Oprah Magazine and the New York Observer. In 2004, he was honored by his alma mater, The University of Rochester, with the Meliora Citation for Career Achievement – the university's most prestigious alumni award for professional excellence.
CAROLE COOPER, an agent for thirty-five years and Leibner's wife and partner, is recognized as one of the most experienced and respected talent agents in the business. Cooper started out representing local news reporters and today has a client list of national news stars including Bill O'Reilly, Anderson Cooper, Lara Logan and Megyn Kelly. Many of them have been clients since their early careers in local television. Cooper has developed relationships with the industry's most powerful executives and creative forces. From local and network news to programming, syndication and new media, she has access to a wide range of decision-makers. Cooper has helped local talent reach their goals of network television and has helped news talent make the transition into syndicated television including the likes of Harvey Levin, Linda Bell Blue and Judge Marilyn Milian. In 2001 Cooper was lauded for brokering the deal that made Aaron Brown the "new defining face" of CNN. Cooper and Leibner, along with sons Adam and Jonathan, have been listed among the "29 Big Apple "power families" profiled by the New York Observer. Electronic Media has called Cooper Bienstock's "secret weapon" and in its issue featuring "The 10 Most Powerful People in TV News" as the agent who negotiated "the most intriguing news contracts written in the last year." For 10 years, N.S. Bienstock Inc. has been the only agency reported on this list. Carole was also named to The Hollywood Reporter's Women in Entertainment 2012: Power 100 list, THR's annual ranking of the most powerful female leaders in the entertainment industry.
The Library of American Broadcasting (LAB) — located at the University of Maryland — is entering its 42nd year serving as the national information resource for the radio and television industries and the academic communities that rely upon it for depth and expertise. Its collections of historic documents, professional papers, oral and video histories, books and photographs are among the nation's most extensive. LAB is evolving from a conventional library into a "homepage" for the world at large, no longer confined to responding to constituents one at a time but reaching thousands simultaneously through the Internet. Industry outreach includes lectures, symposia, print and the broadcast media themselves. LAB's chair is Virginia Hubbard Morris, president of Hubbard Radio, based in Minneapolis- St. Paul; the president/CEO is Donald West, veteran broadcast journalist and former assistant to the president of CBS Inc. (serving as chief aide to the legendary Frank Stanton); the dean of libraries at the University of Maryland is Patricia Steele, and the curator is Chuck Howell.
Library of American Broadcasting Foundation: 703-548-6090, [email protected]
Reservations for tables and individual tickets to the event may be arranged through Jessica Wolin at 212-685-4233 or by email at
[email protected]
.
For press, contact Ellyn Fisher, 212-984-1964, [email protected].
The Library has been honoring leaders in the broadcasting industry annually since 2003 —its list of Giants will total 170 after this year's inductions. Previous honorees include industry founders Guglielmo Marconi, David Sarnoff of RCA and NBC, William S. Paley and Frank Stanton of CBS, Leonard Goldenson of ABC, Bob Hope, Lucille Ball, Jack Benny, Philo Farnsworth, H. V. Kaltenborn, Edward R. Murrow, Walter Cronkite, Arthur Godfrey, Paul Harvey, Charlie Rose, Ken Burns, Johnny Carson, Katie Couric, Brian Williams, Christiane Amanpour, Lowry Mays and Tim Russert, among a roll of honor that is available upon request.