The Eighth Annual GIANTS OF BROADCASTING Awards Ceremony and Luncheon will take place in New York's Grand Hyatt Hotel on OCTOBER 6, 2010, sponsored by the national LIBRARY OF AMERICAN BROADCASTING, which has among its life missions defining and honoring those individuals who played pivotal roles in creating and advancing the electronic arts. CHARLES OSGOOD of CBS Sunday Morning and CBS Radio will continue in his role as Master of Ceremonies. The luncheon is the Library's largest fundraising event, providing the resources to maintain the nation's most extensive broadcasting archives and collection of oral histories. The cocktail reception begins at 11:30 a.m. and the awards ceremony begins at noon.
The Honorees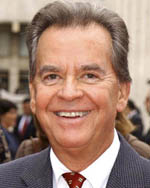 DICK CLARK, once known as "America's oldest living teenager," is an emcee, television producer, game show host, commercial pitchman, restaurateur and entrepreneur. One of Hollywood's powerhouses, he is most famous for hosting television's longest-running music/variety program, American Bandstand, which aired on ABC from 1957 to 1987. The show played an important role in promoting rock music and gave many important acts their first national exposure, including music legends Chuck Berry, Buddy Holly and Jerry Lee Lewis. Clark has produced and hosted several other shows, including The $10,000 Pyramid (later The $100,000 Pyramid), TV's Bloopers and Practical Jokes (with co-host Ed McMahon), the perennial year-ender Dick Clark's New Year's Rockin' Eve (first aired in 1972), and the daytime talk show The Other Half. He is also the founder and a director of the United Stations Radio Networks, which distributes more than 50 hours of weekly radio programming to nearly 3,000 radio stations. In recent years, Clark has hosted the nationally syndicated radio shows, Dick Clark's Rock, Roll and Remember, Countdown America and Dick Clark's Music Calendar. He was inducted into the Radio Hall of Fame in 1990.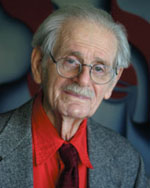 NORMAN CORWIN is considered one of the greatest writers in the English language, and has been called America's "poet laureate of radio." During the Golden Age of Radio in the 1930's and 40's Corwin wrote and produced many of the most powerful and influential programs ever created for the media, including 26 by Corwin, We Hold These Truths and his wartime broadcasts An American in England and On A Note of Triumph. He was among the first producers to regularly use entertainment to address serious social issues. Over the years, Corwin has worked in various media, publishing a number of books, and writing for the stage, television and the movies. His books include Trivializing America and Holes In A Stained Glass Window, as well as his collected correspondence, and many books of his scripts and poetry. Corwin's movie script for Lust For Life, a biography of Van Gogh, won him an Oscar nomination. He also wrote and directed two plays produced on Broadway, The Rivalry (1959) and The World of Carl Sandburg (1960). Corwin returned to radio in the 1990s with a series of new programs written and directed for National Public Radio. These programs have been produced in full digital stereo with such luminaries as William Shatner, Jack Lemmon, Martin Landau, Hume Cronyn, Charles Durning, Samantha Eggar and many others.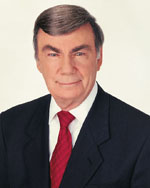 SAM DONALDSON is a 42-year ABC News veteran and one of the most recognizable figures in broadcast news. He served as chief White House correspondent from 1977 to 1989 and again from 1998 to 1999, covering Presidents Carter, Reagan and Clinton. Donaldson also co-anchored Primetime Live with Diane Sawyer from 1989 until it merged with 20/20 in 1999 and co-anchored the ABC News Sunday morning broadcast This Week With Sam Donaldson & Cokie Roberts. Joining ABC News in 1967 as a Capitol Hill correspondent, Donaldson has covered such major events as the Vietnam War, Watergate, the House Judiciary Committee impeachment investigation in 1974 and the Gulf War. The ABC News veteran reported on every national political convention since 1964 with the exception of the 1992 Republican Convention in Houston. Donaldson also reported as an eyewitness to Spiro Agnew's no contest plea in a Baltimore courtroom that forced Agnew to resign from the vice presidency. He was an eyewitness to the assassination attempt on President Ronald Reagan's life in 1981 and delivered the first report of the event on any broadcast medium on the ABC radio network. Donaldson is a four-time Emmy winner and one of the first journalists to broadcast online, with an Internet Web cast in the late 1990s.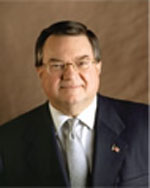 EDWARD O. FRITTS served as president and CEO of the National Association of Broadcasters (NAB) for more than two decades. As a result of Fritts' leadership, NAB became known as one of the most respected and effective lobbying organizations in the U.S. and a significant force in reassessing media ownership rules and regulations, which resulted in fundamental changes for broadcasting. Among Fritts' many achievements was his role as a catalyst for the 1996 Telecommunications Act, which is generally regarded as the most important legislation regulating media ownership in the last 50 years. In recognition of his achievements, Fritts has received several national honors, including the 2006 Broadcaster of the Year Award at both the New York State Broadcasters Association and the Pennsylvania Association of Broadcasters and induction into the Broadcasting & Cable Hall of Fame. Following his tenure at NAB, he launched The Fritts Group where he continues his work in the telecommunications arena offering strategic counsel in the areas of political consulting, government relations, international affairs and public relations.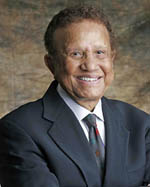 HAL JACKSON is a radio pioneer and he has been one of the most respected figures in the communications industry for over 70 years. Jackson broke a number of racial barriers that have helped open doors for aspiring black broadcasters, musicians and performers. He was the first black radio announcer in network radio, the first black host of a jazz show on the ABC network and the first black to host an interracial network television show on NBC-TV. Jackson also organized and owned the first black team to win the World's Basketball championship and he's the first New York City radio personality to broadcast three daily shows on three different stations in the same day. He currently hosts a radio program which has been rated #1 continuously in its time slot for over 11 years on 107.5 WBLS in New York. For over 40 years, Jackson has been Executive Producer and Host of his Talented Teens International competition which highlights the intelligence, creativity and talents of young minority women. Past participants include Tammi Townsend, Vanessa Williams and Jada Pinkett Smith. Jackson was the first minority inducted into the National Association of Broadcasters Hall of Fame and the first black inducted into the Radio Hall of Fame. He is also the creator of the idea to make Dr. Martin Luther King Jr.'s birthday a national holiday.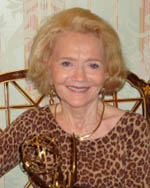 AGNES NIXON, known as the "queen" of the modern soap opera because of her pivotal role in many daytime programs, created longstanding shows including Search for Tomorrow, One Life to Live, All My Children and Loving. She has also been a contributor to several other serials, including As the World Turns, Another World and The Guiding Light. Nixon is recognized as a pioneer in introducing social relevance to daytime television. Topics such as the Vietnam War, abortion, drug addiction, child abuse, racism and AIDS have been confronted in Nixon's storylines since the early 1960s, transforming the traditionally conservative and escapist nature of daytime serials into a forum for relaying socially relevant messages. While topical and provocative storylines are now standard in daytime shows, when Nixon began writing her work was trailblazing. Nixon has written over 25,000 hours of television during a career that has spanned four decades and she is the winner of five Daytime Emmys.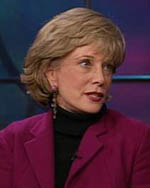 LESLEY STAHL is marking her 20th season as a correspondent on CBS News' 60 Minutes this year. The Emmy-award winning journalist has covered Washington since joining CBS in 1972, including events ranging from Watergate through the 1981 assassination attempt on President Reagan to the 1991 Gulf War. She has reported on every U.S. Russian summit meeting since 1978, every economic summit of industrialized countries since 1979 and every national political convention and election night since 1974. Stahl's interviews with the families of the Duke Lacrosse players exonerated in a racial rape case and with Nancy Pelosi before she became the first woman to become speaker of the house were big scoops for 60 Minutes and CBS News. Stahl's reports have appeared frequently on the CBS Evening News (with Walter Cronkite and Dan Rather), and on other CBS News broadcasts. She also served as moderator of Face The Nation between 1983 and 1991where she interviewed such newsmakers as Margaret Thatcher, Boris Yeltsin, Yasir Arafat and virtually every top U.S. official, including President George H. W. Bush and Vice President Dan Quayle.
Posthumous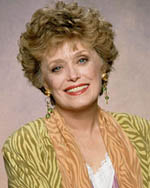 RUE MCCLANAHAN helped make The Golden Girls a long-running television hit playing the man-devouring Southern belle Blanche Devereaux. The show seized the No. 1 rating its first night, in 1985, and stayed in the top 10 for six seasons, receiving several Emmys, one of which went to McClanahan for outstanding lead actress in a comedy series. McClanahan also appeared in the sitcom All in the Family, which broke ground with topical humor, and its spinoff Maude, in which she played Vivian Harmon, the best friend of the liberated, middle-aged title character. Her work includes more than 100 film, television and stage roles. McClanahan made her stage debut at age 4 in a local production of The Three Little Kittens and originated the role of Lady MacBird in MacBird!. After The Golden Girls ended in 1992, McClanahan appeared in a spinoff, The Golden Palace. She also acted in movies including Out to Sea, a comedy starring Jack Lemmon and Walter Matthau, and on Broadway in Wicked. McClanahan campaigned for animal rights throughout her life.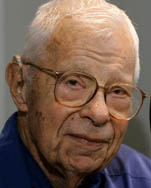 DANIEL SCHORR was a journalist legend, longtime senior news analyst for National Public Radio and a veteran Washington journalist who broke major stories at home and abroad during the Cold War era and Watergate. His 62-year career spanned newspapers, radio and television. After serving in U.S. Army intelligence during World War II, Schorr began writing from Western Europe for the Christian Science Monitor and later The New York Times, reporting on postwar reconstruction, the Marshall Plan and the creation of the NATO alliance. He joined CBS News in 1953 as one of "Murrow's boys," the celebrated news team put together by Edward R. Murrow. After starting as a Washington-based diplomatic correspondent, Schorr was assigned to open a CBS bureau in Moscow and later landed the first exclusive TV interview with Soviet Leader Nikita Khrushchev. Later assigned to Germany, he covered the Berlin crisis and the building of the Berlin Wall. After leaving CBS, in 1979 Schorr was asked by Ted Turner to help create Cable News Network and served as CNN's senior Washington correspondent until 1985. In addition to the three Emmys he won for his Watergate coverage, Schorr received the Alfred I. DuPont Columbia University Golden Baton for "Exceptional Contributions to Radio and Television Reporting and Commentary." He also was honored with a George Foster Peabody personal award for a "lifetime of uncompromising reporting of the highest integrity."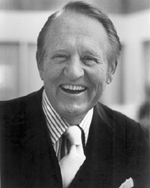 ART LINKLETTER was a radio and television talk-show pioneer who was best known for eliciting hilarious remarks from the mouths of children. In the 1950s and 1960s, he parlayed his talent for the "ad-libbed interview" into two of television's longest-running shows, People Are Funny and House Party. Linkletter relied on ad-libbing, stunts and audience participation to get attention and keep listeners entertained. He had a particular talent in putting small children at ease, which he did regularly on an entertaining question-and-answer session on House Party, which provided the material for his best-selling book Kids Say the Darndest Things! illustrated by Charles M. Schulz, the creator of "Peanuts." House Party aired five days a week on radio from 1945 to 1967 and on television from 1952 to 1969. Linkletter was also one of the fathers of modern reality TV with his show, People Are Funny, an audience participation quiz show that began on NBC in1954. He later became a popular motivational speaker and author, challenging seniors to live as zestfully as he did. Linkletter was also a crusader against drug use and an adviser to President Richard M. Nixon on drug policy.
The LIBRARY OF AMERICAN BROADCASTING (LAB) – located at the University of Maryland – is a 38-year-old institution serving as the national information resource for the radio and television industries and the academic communities that rely upon it for depth and expertise. Its collections of historic documents, professional papers, oral and video histories, books and photographs are the nation's most extensive. LAB is evolving from a conventional library into a "homepage" for the world at large, no longer confined to responding to constituents one at a time but reaching thousands simultaneously through the Internet. Industry outreach includes lectures, symposia, print and the broadcast media themselves. LAB's chairman is Ramsey Woodworth, veteran Washington communications attorney; the president/CEO is Donald West, veteran broadcast journalist and former assistant to the president of CBS Inc.; the dean of libraries at the University of Maryland is Patricia Steele and the curator is Chuck Howell.
The Library has been honoring leaders in the broadcasting industry annually since 2003 – its list of Giants now totals 116. Previous honorees include CBS Evening News' Katie Couric, PBS' Charlie Rose, Dennis Swanson of the Fox Television Stations Group, Walter Cronkite, CBS' Frank Stanton, Bob Schieffer of CBS News, former president of Hearst Frank Bennack Jr. and the late Tim Russert of NBC.
LIBRARY OF AMERICAN BROADCASTING
BOX 2749
ALEXANDRIA VA 22301